Providing Office Technology and Specialized Business
Training for Regional Job Seekers with Disabilities
Learn at Home
Hybrid Option in our NEW Center City Philadelphia location:
Call us at 215.525.0444 if you have questions, need answers, or require more information.
Welcome to The Sierra Group Academy
Where we provide office technology, general education, and specialized business training courses for Job Seekers with Disabilities across Pennsylvania, Delaware, and beyond!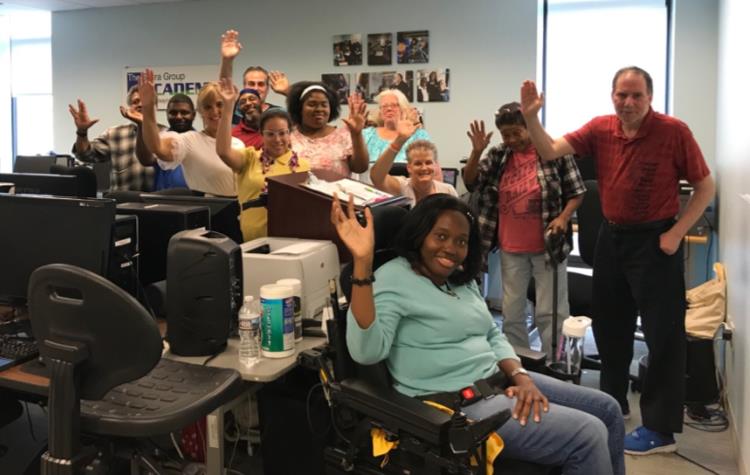 Learn about our Remote and Hybrid Classes
Learn the Technology You Need. Fill the GROWING demand for remote Jobs. It's never too late for the career you've always wanted! 
Email:  OnLineTraining@TheSierraGroupFoundation.org
Or Call us to apply for admission or schedule a virtual or on-site tour:  215.525.0444
Society for Human Resource Management (SHRM) quotes Sierra Group's Janet Fiore on AT used for Employment!
New Assistive Technologies Aid Employees with Disabilities (opens in a new tab)
The Sierra Group Academy has Moved
The Sierra Group Academy, a Program of the Workplace Technology Foundation,
D/b/a The Sierra Group Foundation
399 Market Street, Suite 385
Philadelphia, PA 19106
Stop by to say hello today!
PSA on Assistive Technology in the Workforce
THE SIERRA GROUP ACADEMY – where Success IS Accessible!
A program of The Sierra Group Foundation, The Academy is the region's premier training program that uses mainstream and assistive technology, robust business relationships, and works in partnership with our funding partners to train and place our region's job seekers with disabilities.
The Academy also hosts and trains groups of employers who seek to find talented applicants with disabilities; learn about compliance and ever-changing mandates, try out assistive technology, personally assist and mentor one another and our job seekers and awaken to the Possibilities of HOW individuals with disabilities do succeed in the workforce!
The Academy is one of Sierra Group Foundation's four programs. All programs share the motto of being 'one more way' to drive up employment for Americans with Disabilities, including Veterans. Sierra Group Foundation programs include:
Download The Sierra Group Academy PowerPoint Slideshow. (Click to download and save to your computer and then open the file)
Call us for more information.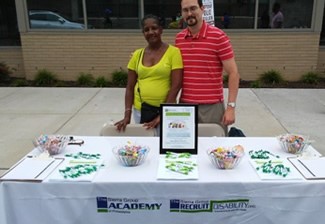 Applications are now being accepted for consumers in need of training to secure part-time or full-time employment. Download PDF for more information or to apply
Are you a Business Looking to Meet OFCCP 7% Rule Goals?
See how the Academy can help you meet your OFCCP 7% rule goals.
For information on how to make your tax-deductible contribution download the Endowed Chair campaign in PDF format.
Academy video from 2009
Why was The Academy established?
The Sierra Group Academy exists in order to assist people who have never worked before in making the first step toward a career.  And,  we are also available to help people who have recently become disabled or have only done entry-level work to build their skills and re-enter the workforce.
Assistive Technology lies at the heart of this training program using highly customized accommodations. The Sierra Group Academy provides core business training needed for success.
A message from the Team
Knowledge Matters…
I work with The Sierra Group Academy because of the organization's dedication to improving the quality of life for people with disabilities, through employment.
A call to action was needed, given the unemployment rate for People with Disabilities was over 75% – often due to exclusion from fully accessible academic and workplace training. Interestingly enough, local companies searching for employees are eager to hire skilled, reliable workers, including those with disabilities.
The Academy welcomes all individuals who fully desire to gain knowledge and computer skills to participate in today's world of automation and technology. Embracing these concepts and aspirations, The Sierra Group Academy (The Academy) was born and has now seen its transformation to ONLINE education for job seekers far and wide! Our program offers everything from courses in computer literacy to finely tuned business communications skills, along with updating one's reading, writing, and math skills to compete in today's technology-driven HYBRID/Remote models. 
Students at The Sierra Group Academy gain workplace literacy, employment readiness, and the chance to master and enjoy technology, which abounds in everyday life.
With all life experiences, growth involves continuous learning events combined with strong determination. There are perceptions in this world that can lead us to believe that there are limits to what we can accomplish. The Academy can change students' paradigm through training, guidance, and challenge to build on each person's unique and transferable skills. Having this knowledge offers an array of sound career prospects and skills to re-enter the world of work and live with heightened independence in the community.
If you want to do better tomorrow, you must start doing better today. If you are ready, The Academy is the vehicle upon this solid ground to start your journey. We are dedicated to our goals and students, and offer support as you pursue your potential.
"Settle for more and more is what you shall have!"